Host of the WCED Morning News
Weekdays 6:30 - 9:30am

Beth Walters is originally from the land of Frostbite Falls, Minnesota. "I've been lucky enough to come to call tropical DuBois my home. It may not seem like the tropics to a native of DuBois, but when you grow up in the Great White North like I did, any place with temperatures above zero - especially in the summer - is considered tropical by me.
"I fell into this radio thing by accident several years ago, see what can happen when you aren't paying attention! Just goes to show that life is full of surprises. DuBois has been my home now for over 6 years. I can genuinely say that my colleagues and friends here mean more to me than I could've ever imagined."
Beth has a degree in Economics from St. Cloud State University. In addition to handling all the administrative work to keep production moving along at Priority Communications, Beth is also part of the production staff. You can catch Beth weekday mornings for your local news and information.

"Carpe' Diem guys…and by the way, Moose and Squirrel say 'Hello'"!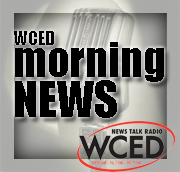 Q & A with Beth
Growing up: My childhood was spent in the small town of Cold Spring, MN. It was a great place to be as a kid….lots of love and small town charm.
Getting into radio: Did so by accident! After another job fell through, I was asked if I'd like to become part of the staff here….and what a great decision! I did a number of other jobs before I went "on the air" and have never looked back.
Career Highlight: Getting to interview the courageous kids and their parents from Make A Wish. They truly are inspiring…and humbling.
Three dinner guests: Ghandi, Jesus and my grand dad.
Favorite singer or group: Lots of them….my tastes are pretty diverse and cross all genres and boundaries!
Favorite movie: It's a Wonderful Life
Favorite T.V. Show: Dirty Jobs
Words to live by: Anything worth doing is worth doing right.
Favorite Food: Homemade Mac 'N Cheese
Beverage of choice: An icy, cold glass of H2O
Hobbies: Gardening, bird watching, hiking….just being outdoors.
Greatest Fear:Living life with any regrets
Charity of Choice: Angelman's Foundation